Ready for a Vacation? It's Panama Beach Time!
PCB Gulf-front Condo Rentals: (850) 708-1429
Whispering Seas 304-Gulf-front 1BR/1BA- Sleep 6-3rd Floor;Kitchen;Balcony; W/D;Wi-Fi
PHOTOS

DETAILS

CALENDAR

REVIEWS
Whispering Seas 304 is a third floor Gulf-front 1BR/1BA condo that sleeps 6 -- with a Queen Bed and a Full Bed in the bedroom and a sleeper sofa in the living room. Newly renovated with new tile, crown molding, bathroom vanity, fresh paint, and decor. This beauty has great Gulf views from throughout the condo and especially from the Gulf-front balcony. Fully equipped kitchen; W/D; Gulf-front Balcony; Wi-Fi.
Whispering Seas 304 combines the value of our one bedroom units with great 3rd floor Gulf views, the ability to sleep 6, and the convenience of a washer/dryer right in the unit. This condo is perfect for a couple for a romantic retreat and for a family vacation at the beach. There are great gulf views from the kitchen, dining area, living room and wide balcony. The kitchen has everything you need to make your family favorites and to cook up today's fresh catch from the beach. This lovely unit has been recently re-decorated with new tile, crown molding, bathroom vanity, fresh paint, and decor.. With all the comforts of home at the beach, you and your family will love Whispering Seas 304!
Whispering Seas 304 has a Queen Bed and a Full Bed in the Bedroom and a Queen sleeper in the living room, so Whispering Seas 304 can comfortably sleep up to 6. The condo has been newly painted and recently redecorated; and there's a washer/dryer right in the condo. The fully equipped kitchen has everything you need; and you can enjoy your meals at the dining table or on the Gulf-front balcony. There are TVs with DVDs in the living room and the bedroom. All of our units are non-smoking. Please smoke outside of your condo.
Don't fight the crowds in a high-rise! Whispering Seas is a low-rise, family-friendly Gulf-front beach resort, with a pool right on the beach, a Gulf-front terrace with 4 grills and 4 picnic tables, and free Wi-Fi.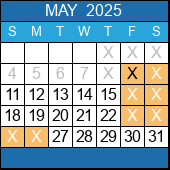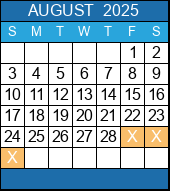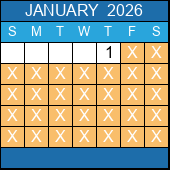 "The condo is right on the beach of the Gulf. Great location. The beach was not crowded as with some of the larger high rise units. Third floor provides beautiful views. The condo is very clean and the kitchen is well equipped. The location is nice and quieter than many places. We really appreciated the washer and dryer. We appreciated how easy and professionally everything was handled."--Betty, August 2017
"Great location. Easy to check in and out. Wifi was a little iffy but would work in bedroom."--Britanee, July 2017 w
"Great location, great place!"--Alyssa, May 2017
"Great Location, would stay there again!"--Elizabeth, April 2017
"The condo is spectacular. Amazing view of the gulf from the balcony. We also saw a herd of dolphins swimming across the gulf from our balcony. Beach in front of the condo is great for relaxing."--Nikhil, April 2017
"This location is a an ideal vacation location and reasonably priced! When I think of a vacation I want to wake up and walk to the beach and see it from my room. Not only was the location all of that it was way more. It's like you live on the beach. The other guest become your neighbors. The sound of the waves 24/7 is heaven. The beach sand is softest sand I've ever felt. The pool was great for the kids and its was also nice to lay out in if the beach front became too windy. About the place...very clean, well stocked. Very true to description. I have no complaints it was everything I expected, the only thing I worry about is how clean it will be. And to my surprise it was hotel level cleaned, very impressed. The staff was an amazing and has great communication and very accommodating. We will definitely come back."--Naomi, April 2017
"Condo is nice and just like the pictures. Felt safe in this condo. Check in and check out were very easy! We would stay here again."--Tancie, March 2017
"Really easy check in and out. Right on the beach. Would definitely stay again."--Cory, March 2017
"This place is amazing! Immaculate and perfectly stocked. We've never been so pleasantly surprised. We will definitely return."--Joanne, March 2017
"We stayed at his place for my 30th birthday weekend and had such a nice stay! We had an awesome view of the beach from our balcony. We were AMAZED by how well stocked the kitchen was. The staff was so great at quickly responding to any messages I sent them both leading up to and during our stay. With it being Spring Break, the location of this place was perfect too because it wasn't as crowded and congested as the condos on Front Beach. It was neat too that, at the check-in office, they had free puzzles and books for us to choose from and enjoy during our stay. Due to the rainy weather, we ended up putting together 3 of those puzzles while enjoying the beach view from our room. Thank you so much for the perfect getaway!!"--Aubrey, Mach 2017
"Great for work travel! Very well kept!"--Julie, March 2017
"Great location on the beach, just as described. You can catch beautiful sunsets from the balcony. Away from the crowds. Clean and nicely decorated. Wifi signal wasn't very strong. Keyless entry was very convenient."--Robin And Dimitri, February 2017
"LOVED our stay! Staff was friendly and the condo was just what we hoped it would be. You couldn't be much closer to the ocean without being in it! And watching the sunset from the balcony each evening was one of our favorite things. Kitchen was well stocked, beds comfy, and wifi good (especially in the bedroom). Pool was clean and inviting. We already miss hearing and seeing the ocean waves. Our daily walks along the white sand beach made each day special. We're already looking forward to coming back next year!"--Robert, February 2017
"The Rental Office set the tone. I appreciated that it was close, well maintained and staffed with a professional representative. I made a call with a question about the A/C and they got right on it and called me back w/in 15 minutes. What initially sold me on this unit was the photo with the lovely beach front view but the clincher was the owner's simple design with the light color palette and the mirrored wall which expanded the feel of the overall size, bringing more of the outside view in. Felt light and airy and I loved that. My view took in the well maintained, inviting pool and then the beach and the ocean. Perfect."--Teresa, October 2016
"Great experience all the way around. We arrived early, the staff called the cleaning staff and had the place cleaned early. Called us on our cell when room was ready. Easy check-in, answered all my questions about future bookings, very nice!"--Stacy, October 2016
"Everything was great. Check in went smooth. The staff was very friendly and pointed out places to eat and answered all questions. Loved the condo right on beach. Our condo had everything needed to make stay enjoyable. We plan to come back next year. Thanks so much!"--Darrell, September 2016
"Beautiful condo with a fantastic beach view. Location on the beach was wonderful. The sand is soft and white and clean and the water is the clearest I have ever seen. The pool is very clean and on the beach. The condo is well stocked, with plenty of towels and kitchen supplies. Small washer and dryer in the unit, which is appreciated. Condo is well maintained and was clean. Our only problem was continual difficulty connecting, and staying connected, to the wi-fi. There are two different networks, but we had trouble using either one. That was frustrating after a while. Overall, a very good experience. We would definitely rent again."--Diane, August 2016
"Great little place for a friend's reunion. View is fabulous."--Cyndy, July 2016
"Felt very welcome upon our arrival, room was ready and clean. Good location, not right in the crowd, alot of room on beach to move around and play. Water was beautiful, will defiantly go back. You should mention St Andrew Park as a great place to spend the day it was gorgeous."--Dennis, July 2016
"Enjoyed our time here. Loved the back balcony. The sound of the waves at night were delightful."--Jenn, June 2016
"Clean, kitchen was well stocked"--Breanne, June 2016
"The location was great! Pictures were accurate, and the views were just like they were shown. Checking in and out was quick and easy. The condo was clean and had all amenities needed for a great stay. We really enjoyed our time"--Ken, June 2016
"The place was great, location was very good, nice beach access, checkin was easy. Place was clean and well furnished. Would stay here again."--Jim, June 2016
"Check in was painless and the condo was clean with a great view. Highly recommended!"--Adi, May 2016
"Very well organized so that we felt very welcome. Description of the flat was very precise. I was there with my father and son and it was one of the best places we stayed during our 4 weeks road trip through florida. Very clean, very well equiped nice pool area with an smoker grill. I can absolutely recommand to stay here!"--Michael, April, 2016
"A perfect getaway! The condo was spotless, comfortable beds, a well stocked kitchen and having a washer and dryer was icing on the cake. We had a delightful stay and walking the beach was awesome. The satff was super available and always willing to help in any way. Perfect vacation spot."--Mary. April 2016
"Accurate description of listing. Good value."--Thuy, March 2016
"This place was perfect for me and my kids. We had a blast. The condo was clean, and had everything we needed. I will for sure be back!!"--Hannah, March 2016
Please read our reviews of Whispering Seas to learn more about the quality accomodations and our pride in customer service.